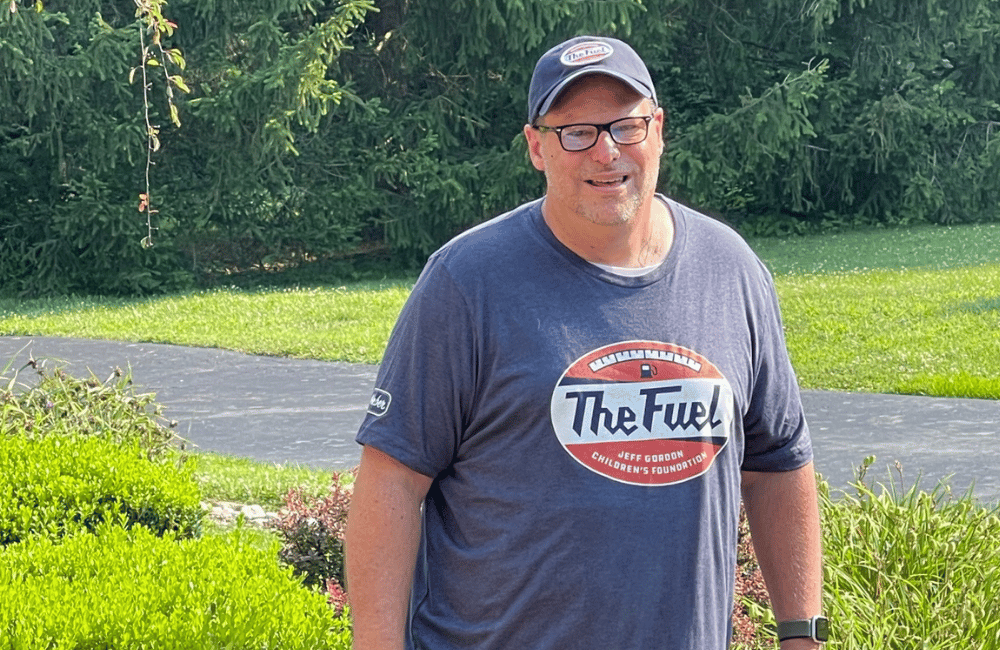 09 Aug

FUEL Member Spotlight – Greg W. of Waynesville, OH

Greg Williams has been supporting Jeff Gordon Children's Foundation since 2015. But earlier this year, he and his wife Suze took their support the extra mile by joining THE FUEL. 

THE FUEL is Jeff Gordon Children's Foundation's exclusive recurring giving program. Recurring giving — giving a pre-determined amount regularly — is an important pillar of our organization. Recurring giving provides a sustainable and predictable stream of revenue that ensures we can do our work more confidently and more efficiently.

Membership in THE FUEL also comes with fun, VIP perks – like a membership t-shirt, an annual Christmas ornament designed by a child fighting cancer, exclusive news, updates, merchandise discounts, and more.

For Greg, joining THE FUEL meant taking action in a fight that hits close to home. His close family friend underwent multiple surgeries and several weeks of chemotherapy while fighting childhood cancer. As a cancer survivor himself, Greg understands just how much of a toll a cancer battle can take so he was bothered by the thought of children having an experience like his own. He became motivated to help fund the discovery of better treatments for kids fighting cancer in hopes that better treatments will weaken the toll and increase kids' chances of surviving and thriving despite their diagnosis. Greg excitedly reports that his friend who fought childhood cancer is in remission and will be headed to college in the fall. Through THE FUEL, Greg is helping more kids beat cancer and chase their goals, just like his friend.

When he's not racing to beat childhood cancer, Greg enjoys spending time outside. His ideal day is a day spent on a hike with his two dogs – Baxter, a yellow lab and Mia, a coon hound. But he also enjoys a day where he gets to enjoy a NASCAR race or a football game.

Greg maintains a very close relationship with his family – his mom and sister live just about five minutes from Greg, making it easy to spend time together. He's a proud father to his two daughters, Arden and Ashlee, and a proud uncle to his niece and nephew, twins Chandler and Chace.

Before retiring, Greg worked as an IT professional for twenty-five years. He spent his career as a veteran specialist in network and server support, consulting for big names in tech like IBM and many other organizations. He says the most rewarding part of his job was helping companies connect and use information in a way that supported the goals of the organization and the success of its employees. The similarities between Greg's professional career and the race to beat childhood cancer may be part of what motivated Greg to get involved. His donations to JGCF are funding a network of childhood cancer research with a goal of helping kids who are fighting cancer.

According to Greg, discovering the Jeff Gordon Children's Foundation was serendipitous in his search for ways to give back and help other families fight and win their battles against cancer. "Children are the most vulnerable victims of cancer, having an opportunity to help a child live a life without cancer is my ultimate victory lap," he says.

If you'd like to join Greg as a member of THE FUEL, visit JGCF.org/TheFuel. If you have questions about recurring giving, please reach out to a member of the team by emailing [email protected].
Are you a FUEL member who would like to participate in a FUEL member spotlight? Send an email to [email protected] to let the team know.