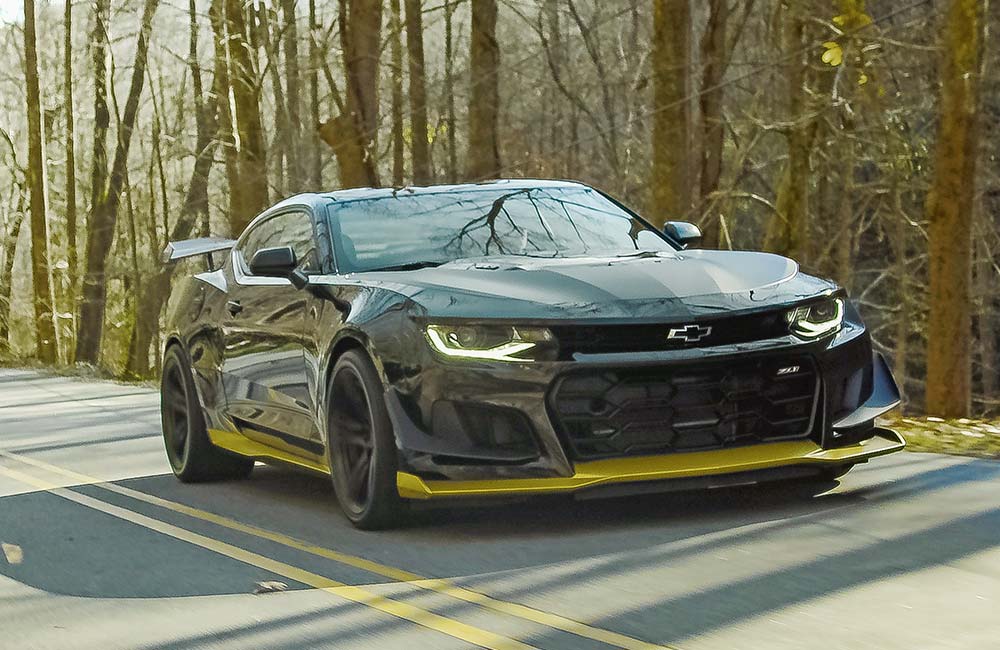 22 Jul

Year two of Camaro For A Cure raises nearly twice as much as the inaugural program

Just over a year ago, we decided that drawing a name at random to win a car owned by Jeff – while at the same time raising big bucks for lifesaving childhood cancer research – is just too much fun to do only once a year! And so, on the heels of Corvette For A Cure, Camaro For A Cure was born.

It raised nearly $800,000 in its inaugural year – which was incredible. But, as you may know if you're a Jeff fan, we're committed to continuous improvement around here. So not hitting our $1 million fundraising goal last year didn't stop us from setting a goal to raise $1.5 million this year. And you know what, because of your generosity: WE. DID. IT.

That's right, earlier this year we sold enough tickets to raise $1.5 million for childhood cancer research that could help change everything for families fighting this number one cause of death by disease for kids. (Learn more about one of our grants here.)

And while winning Jeff's 2021 Camaro ZL1 1LE Coup didn't "change everything" for our winner Alex from Pennsylvania – it did make him REALLY HAPPY 😊. (Watch here as a childhood cancer survivor draws Alex's name and Jeff tells Alex he won.) It also made him much more aware of the devastation caused by childhood cancer, and how underfunded research to improve outcomes is.

We caught up with Alex after his one-of-a-kind car had been in his garage for few weeks, to see what it's like being only the second-ever-winner of JGCF's Camaro For A Cure.
An interview with 2021 winner, Alex
JGCF: What was your first thought when you saw the car for the first time?
Alex: Even seeing it for the first time seemed like it was a dream. It was so awesome! Yet, it did not seem real.
JGCF: What was it like when the car was delivered to your house?
Alex: When Horseless Carriage (auto transporter) showed up it became real. Horseless Carriage came rolling through our neighborhood…you could hear it coming! It was crazy! It was a beautiful evening and the neighbors all started coming outside to see what was going on. When the Camaro backed out of that trailer it was like, "AHHHHHHH!"
JGCF: What was it like meeting Jeff Gordon?
Alex: He is such a great guy. We both felt so at ease with him. That made it even more special. The nerves faded and I was able to enjoy the time with him.
JGCF: What did your family, friends, and neighbors say about you winning this car?
Alex: They were in awe. A lot of congratulations and pictures and rides! Some of them want to drive it and I always oblige. There is nothing better than when you see the look on their face when they feel the power. It never gets old!
JGCF: Do you feel like people "notice" this car? Has anyone ever asked you about it?
Alex: Oh yeah! I was getting gas a few days after I got it and a guy came over and said, "Is that the Jeff Gordon Car?" I took it to the GM Nationals in Carlisle, PA and several people recognized the car. A lady came up to us and said, "That's supposed to be MY car!"
JGCF: What does it mean to own a car that raised $1.5 million for childhood cancer research?
Alex: That is truly that coolest part. Everyone says "I didn't think anyone won these things" but I am living proof and I encourage everyone to get online and follow JGCF.
JGCF: Do you plan to buy tickets to win Jeff's Corvette or Camaro in the future – and if so, why?
Alex: You really need to ask?! Of course! Because it's a great cause and, well, could it happen again???
JGCF: Be honest – were you at all nervous riding shotgun with Jeff behind the wheel? 😉
Alex: Nervous, yes. But, definitely more excited. I really tried to keep myself in the moment and take it all in. This might be the one thing that has made more people jealous. Great car … AND, Jeff Gordon drove it!
In case you missed this year's Camaro For A Cure program — or can't remember how special this one-of-a-kind Camaro is — check it out below.
And for a few chuckles, check out Alex's ride-along with Jeff behind the wheel here.
Camaro for a Cure